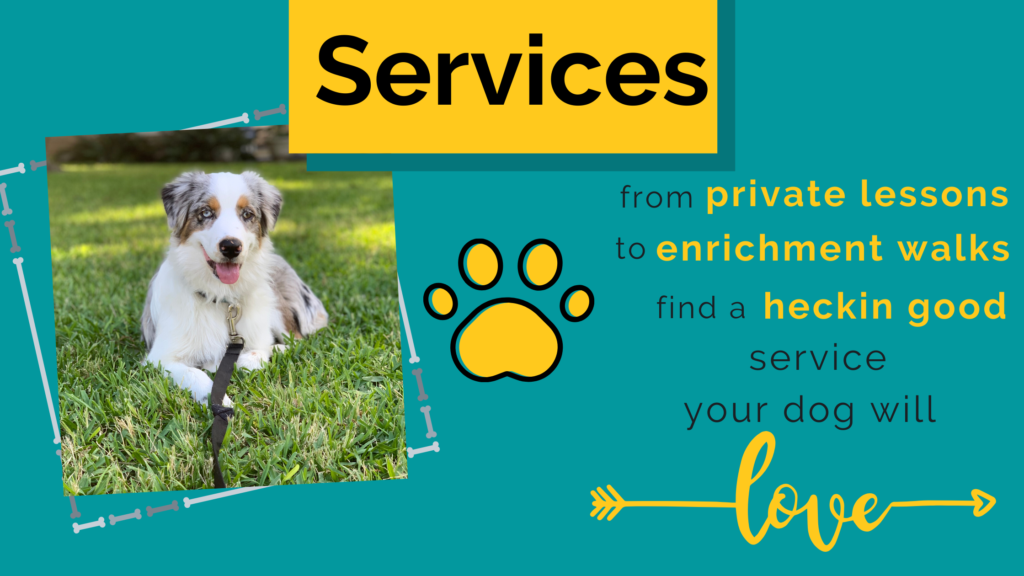 Training packages
---
A Heckin Good Start
(Covering the Basics)
Six Private Training Lessons
+ Training Kit


Behold, your basic training package! Over the course of six sessions, we will build your bond with your dog, cover the doggy basics, and learn some fun party tricks.

IDEAL FOR: First-time dog-owners
What's Included?
THE GOOD STUFF: A personalized training plan; email/text support between lessons; kind, compassionate, and fun private coaching!

PLUS: Excellent training toolkit to get started
Dynamic Duo
(Leash Walking Fundamentals)
Four Private Training Lessons
+ 3 Day Training Sessions


Join us for four one-hour long sessions, and walk (gently) away with some excellent, real-world skills for more pleasant walks with your pup!

IDEAL FOR: Pullers and the easily distracted
What's Included?
All the Good Stuff from the BASICS

PLUS: Solo day-sessions to hone those skills between lessons. Just your dog + our trainer, no owner attention required! Go enjoy an hour to yourself!
Slow Your Roll
(Creating Calm in Excited Dogs)
Five Private Training Lessons
+ 3 Day Training Sessions
+ Custom Enrichment Plan
Check out this package for dogs who just don't know how to chill. We'll fine-tune this course to help your over-excited pup learn the beauty of zenning-out.
IDEAL FOR: Dogs who always do the most
What's Included?
All the Good Stuff from the BASICS

PLUS: Those solo day-sessions!
PLUS: A custom plan for your dog's everyday mental health and wellness
---
Private Lessons
---
Single One-Hour Session
This is an in-home private lesson. We'll discuss the goals you have with your dog and come up with a detailed, customized plan for achieving those goals.
Includes:
Customized plan for working on your specific goals

One-hour private session

Detailed notes, including exercises empowering you to continue working with your dog at home
Price breaks available for multiple session packages.
---
Day Training
For Current Training Clients Only
---
Enrichment Hour
All dogs need dedicated time to use their impressive noses. It's good for their brain and helps to make for a more well-adjusted pup!
BUT we don't often have the time to let our dogs explore the world at their own pace.
Book an Enrichment Hour with us today, and we will help your dog safely explore the world around them, sniffing to their heart's content!
Adventure Walk
Does your dog have more energy than your entire family combined? Phew, we feel you! Or maybe you have a pup who's a little unsure and could use some low-pressure exposure to new environments. We've got you covered!
An Adventure Walk can include: hikes, swims, runs, nosework, intro to novel environments, and so much more. Book an adventure walk, and let us know what your dog loves!
Custom Day Training
We've come up with a training plan together, and you and your pup are working on your exercises at home. But some refreshers for your dog would be very helpful! Maybe you've been busy and unable to practice as much as you'd like.
Add on some Custom Day Training, and we will spend an hour working one-on-one with your dog, fine-tuning and brushing up!
---